Wrist support made of ProFit fabric, equipped with a fastening VELCRO tape enabling perfect fit to the wrist.
It stabilizes the joint and releases stress from forearm and hand muscles. Application: in pain syndrome after injury, in overstress, degenerative changes, inflammation rheumatoid arthritis – improves hand efficiency. As prevention in sport activities connected with overstress of the joint.
Available sizes:
| | |
| --- | --- |
| Size | Wrist circumference i n cm |
| S | 13 - 15 |
| M | 15 - 17 |
| L | 17 - 19 |
| XL | 19 - 21 |
Applying:
The support presses the muscles improving blood circulation and positively influencing the oxygen distribution through the whole body. AS-N-01 support provides perfect stabilization of the wrist, reduction of pain caused by overstress, old injuries and degenerative changes, increases the strength of the grip (e.g. tennis, weights lifting). Maintenance of stable temperature and elastic pressure results in reduction of swelling, helps in healing of post-injury effusions and hematoma. Enables faster come back to wok and training.
Purpose of use:
chronic overstress and inflammation of wrist;
after injury and treatment of wrist and forearm (including fracture of forearm)
in case of bursitis of hand
chronic overstress and inflammation of epicondylitis (tennis elbow) – reduction of problems;
in sport: injury prevention and to increase the strength of arm in tennis, weight lifting, netball, cycling
Setting up: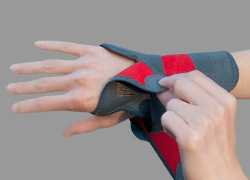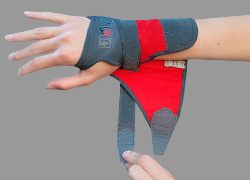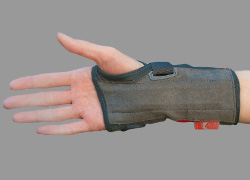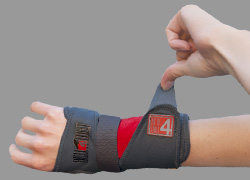 Information for patients:
Only properly selected, fitted and used support fulfils its function – incorrect use may cause increase of problems with the hand, skin abrasion, swelling, vein inflammation.
In case of swelling or paraesthesia of arm and hand the support must be removed or loosened
No kind of cream, poultice, ointments etc should be used before the application of the support.
In case of skin changes in places where the support touches the skin (abrasions, injuries, skin eczema) it is possible to use the support after a dressing is applied.
In case of skin allergic reactions due to the use of the support, please contact a doctor.
Lack of personal hygiene or wrong maintenance of the product (insufficient washing and rinsing) may lead to skin abrasion, rushes, allergic reactions connected with excessive sweating and development of bacteria.
Maintanence:
Hand wash in 30° warm water with soap.
RINSE THORUOGHLY
Do not iron
Do not use chlorine
Dry far from the source of heat