Forearm and hand brace with thumb stabilization AM-OSN-L-02
Code:

251

Weight:
Forearm and hand brace with thumb stabilization AM-OSN-L-02
Product description

Hand and forearm brace made of ActivSpace and equipped with anatomically shaped stabilizing insert and VELCRO tape which enables perfect fit of the brace to the limb. It stabilizes the carpal joint, wrist, knuckle joint and second and fourth finger. Use: after injury of forearm, knuckle joint and wrist requiring stabilization of the thumb (even after breakage of forearm bones, wrist and hand) after surgery, in case of infective bursitis and paresis of upper limbs.
3 points stabilization
L3P (LOCK 3 POINTS)
Per customer request, the standard separator may be substituted for neurological separator which stabilizes each finger separately. Extra price.
separator neurologiczno-reumatologiczny.
In addition, for this brace you can purchase special neuro-rheumathological fingers separator. It provides proper position of fingers and maintains optimal abduction of the proximal phalanxes in case of neurological or rheumatological disorders. When the spasticity occurs, the separator prevents the fingers against the excessive "squeezing". In case of Swan-Neck Deformity in Rheumatoid Arthritis (RA), the device construction with special fastening, correct the fingers from ulnar to neutral position. Maintaining of the optimal neutral hand position allows to stop the process of neurological or degeneration diseases.
Available sizes:
Purpose of use:
dislocation of carpal joint,
damage of tendon and tendonitis,
severe pain of wrist,
severe or chronic osteitis of wrist or metacarpus,
operations ( orthopedic, rheumatologic),
neurological illnesses of central or peripheral origin,
preventively during sport activities or hard handwork.
Contraindications:
fresh wounds
attritions of skin
skin eczemas
skin allergies
varicosity
ulceration of shin
Setting up: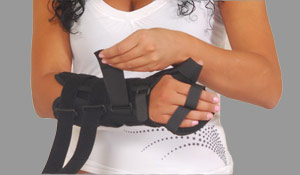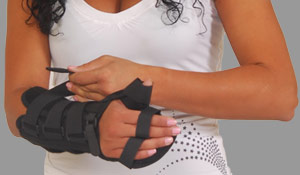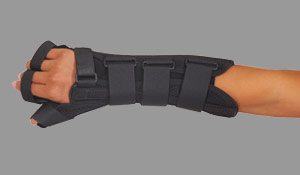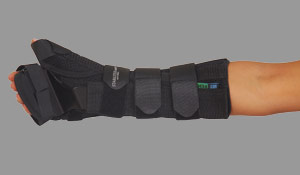 Information for patients:
It should be applied in compliance with indications and under doctor's supervision.
For the first time should be established by doctor or by trained medical staff.
Orthosis should not be used if any ointment or warming up gel had been applied earlier.
It is recommended to use the article together with stocking or antivaricose knee-length socks of minimum compression.
Inappropriate use of article or choosing wrong size can bring about a defect of venous and arterial circulation, trauma of protected joint, skin illnesses etc.
Lack of everyday personal hygiene or inappropriate preservation and washing the article can cause skin attritions or can bring about allergic reactions connected with intensive perspiration and development of bacterial flora.
Maintanence:
Wash by hands in warm water with soap in temperature of 30°
Do not mould.
Do not chlorinate.
Dry away from sources of warmth.