Buggy for children with special needs GEMI NEW
Code:

294-1

Weight:
Buggy for children with special needs GEMI NEW
The GEMI stroller has a hardy construction and its optional extras make it an extremely versatile piece of special needs equipment.
Accessories include a table for dining or play, an adjustable headrest, and a neoprene vest and a legs cover for both a sense of stability and cold days when an extra bit of body heat can be retained. However, the beauty of this GEMI stroller is in its ability to modify various elements very easily. The back, the seat, the head rest and the harness can all be altered or modified in some way to provide maximum comfort and control in a given situation.
The GEMI buggy comes in three sizes, with – for example – an 11cm differential in width between the smallest and the largest sizes. So if you're really satisfied with the GEMI's construction, its maneuverability and various other features, you may settle for a bigger model when your little one gets a bit bigger.
If you want to talk through some of the modifications and possibilities of this product, please contact us in whichever way is the most convenient.
Options:
Cover Tray Grab rail Head support Leg cover Front wheels blockade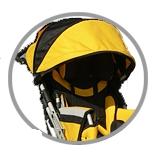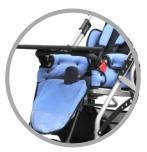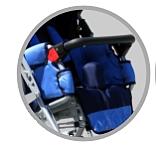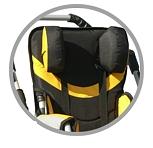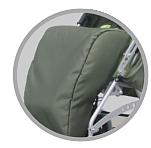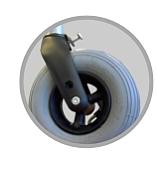 Basket Lateral supports Abduction belts Vest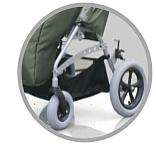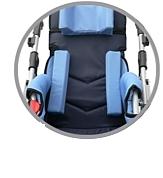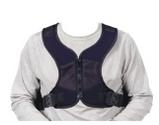 Dimensions
| | | | |
| --- | --- | --- | --- |
| Size | 1 | 2 | 3 |
| Overall Width | 63 cm | 66 cm | 74 cm |
| Seat Width | 32 cm | 40 cm | 45 cm |
| Armrest Height | 20 cm | 20 cm | 20 cm |
| Seat Height | 50 cm | 50 cm | 50 cm |
| Overall Lenght | 77 cm | 98 cm | 98 cm |
| Seat Depth | 28 - 34 cm | 36 cm | 42 cm |
| Footrest Height | 25,28,31,34 cm | 34,37,40,43 cm | 39,45 cm |
| Back Height | 51 - 64 cm | 63 - 75 cm | 70 - 78 cm |
| Weight | 13,5 kg | 21 kg | 25 kg |
| Max Weight user | 35 kg | 50 kg | 60 kg |
Related products